Description du produit
PVC Pipe Extrusion Line 42kW Total power and 20m/min Speed
The CONVINCING FEATURES of the PVC Pipe Applications
Nowadays the PVC pipes are widely used. Compared with conventional metal pipe, are as followed.
With self-extinguishing and flame retardant;

Excellent in anti-aging character

The weight of PVC pipe is light, easy to flaring, bonding, bending, welding.

Installation workload and Processing cost are lower than metal pipe

Good electrical properties of resistance

Recycled and Environment-friendly.
USAGE AREAS OF PVC PIPES
Water supply, drainage pipelines in building;
Rainwater drainage pipelines in building;
Electrical wiring pipe in building;
Air conditioning condensate water systems;
drainage liquid gas and oil transportation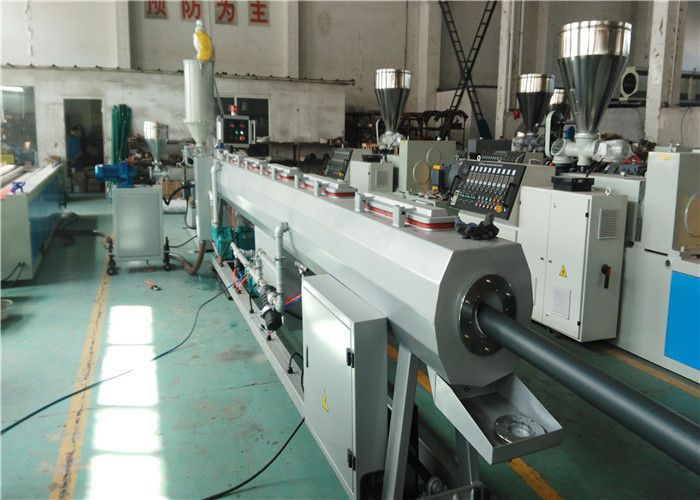 PVC PIPE EXTRUSION LINE PRESENTED BY LANGBO MACHINERY
With the large demand of plastic pipes and increasingly cost of energy and raw material, LANGBO MACHINERY has continuously being optimizing its pipe extrusion solutions during recent years. We offer solutions tailored to customer specifications in all fields of extrusion technology. Our machine concept is based on economical high performance extrusion.Our machine achieves a first class balance between high output and energy effectiveness. We can produce the PVC pipe with diameter from 16mm to 630mm.
If you want a customized production solution, please contact us to get more detailed information.
PRODUCTION PROCESS FLOW

The first step of pipe production is the preparation of raw material. Customers can mix the PVC powder with other additives by themself. The mixture will be feeded into extruder. The material will be plasticized in the extruder and then be extruded into the mould. The material is shaped by mould and goes out with the pipe looking. The pipe extruded from the mould is hot and soft. The pipe with unstable shape will be calibrated and cooled by vacuum sleeve in the vacuum calibration tank. And then the pipe goes into the cooling tank for a further cooling. Haul off unit stands next to the cooling tank and take the pipe away from the extruder. According to the defined length, the pipe will be cut and then packed for transport.

FEATURES OF PRODUCTION LINE

In order t o meet the customized production plan, various design concepts for equipment will be adopt ed.
Basically feeding system, conical twin-screw extruder, mould, vacuum calibration tank, cooling tank, haul-off machine, cutter, socket forming machine (optional) and stacker build up the complete production line.
If you want a customized production plan, please contact us to get more detai led information.
For a stable production with high performance we have a mature solution package, which involves design concept, manufacturing and assembly process. It can eliminates many potential risks during production.
The Core components such as motor and frequency inverter are chosen from the world famous brand, which guarantees a precise and reliable production.
The introduction of components
conical twin screw extruder
PVC compounds are sensitive to shearing and high temperatures. Therefore , we should gently process on either parallel or conical twin screw extruders, depending on the throughput requirements and pipe dimensions. As the professional equipment, the Conical twin screw extruder can process not only PVC compounds, the mixture of PVC and wood/composite but also compounds of PP/PE and wood powder.
Equipped with different die head, downstream equipment, it can be applied for manufacturing of pipe, profile, composite profile, panel, sheet and pelletizing, etc.. A logic combination of motor, gearbox, frequency inverter, barrel and screw plays a significant part of energy efficiency.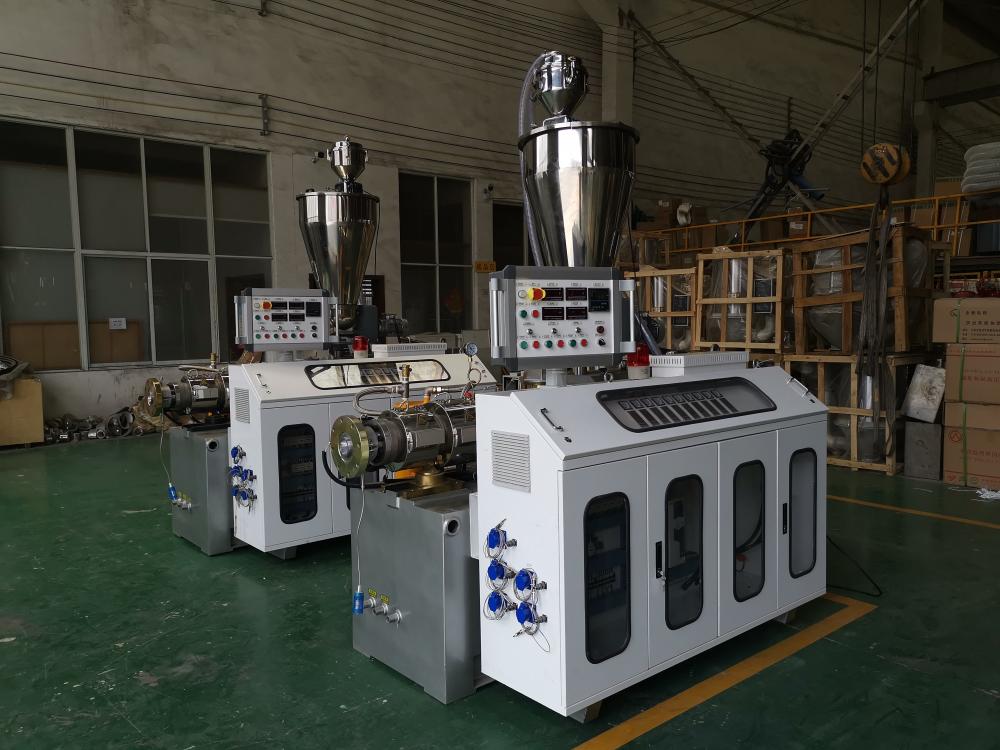 The pipe form is shaped by mould with various raw materials . The special designing of our mould provides ideal viscosity of material melting, which influences the pipe shaping and extrusion energy. All faces in contact with material are polished, for that reason, the extrusion friction can be minimized.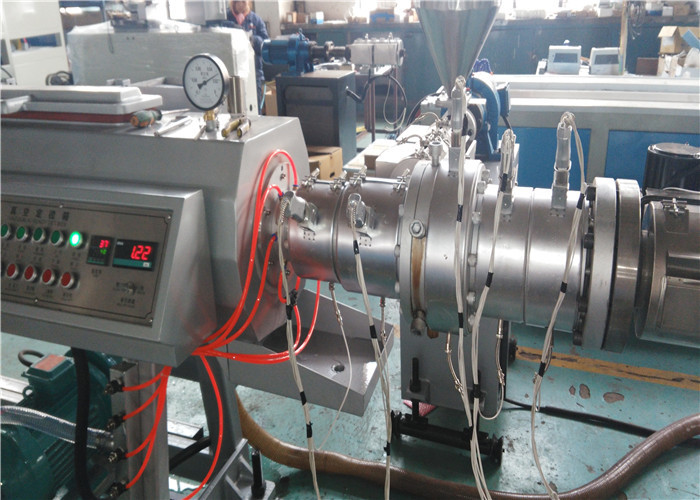 Vaccum Calibration Tank & Cooling Tank

Through the Vacuum Calibration Tank, the pipe shape will be defined. Besides that the surface quality of pipes is influenced by this step. LANGBO Vacuum Calibration Tanks are manufactured with stainless steel. The spraying nozzles are designed for maximum cooling performance. The Cooling water sprinkles on the hot plastic pipe surface. Combined with the shaping of the mould , the surface quality of pipes will be defined.
The pressure on o ur vacuum tank can be adjusted, so vacuum pressure can be fixed according to the pipe requirement s . We seal gasket for every lid on the vacuum tank. This stops vacuum leakage and minimiz es energy consumption. W e adopted the s ophisticated process technology in order to guarantee the quality of our products.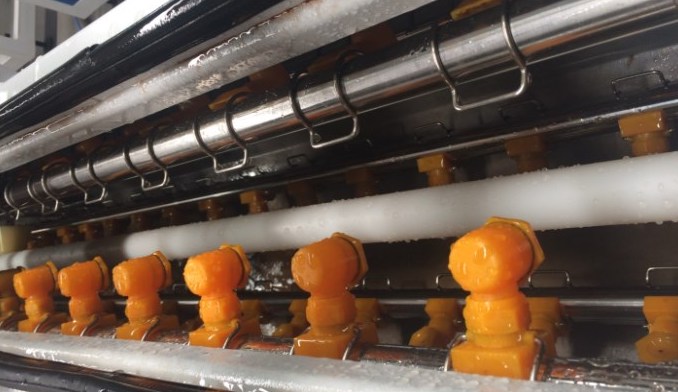 We have a wide range of haul-off units which can provide customers for the ideal solution with the diameter range of 16 to 800 mm.
Caterpillar and Belt Haul-off units can be adopted in accordance with the production conditions.
Haul-off speed can be connected with the extrusion speed, so that the wall thickness are more symmetrical.
The Belt Haul-off unit is usually used for small pipe and high speed extrusion. It is free from vibration and ensure the excellent control even at high speed.
The Caterpillar can take the big pipes easily. The Claws' surface is covering with foam PU which can prevent the slip between pipes and claws.
The speed setting of belts and caterpillar can be adjusted by inverter. Therefore, man can operate on the control panel easily.
A cutter with high performance can ensure the same length of the cut p ipes. So the high quality encoder and precise cutter unit are needed. Similar like Haul off unit, the cutter has two design concept s : saw cutter and planet saw cutter. It depends on the diameter of cut ting pipe s .
The Control system includes the whole operations related controller and executor such as PLC module, HMI panel (Human Machine Interface), thermometer, connector and so on. The Elements with high quality is significant for a stable and precise production.
For p ipe p roduction, there are some functional unit s like laser , ink printer, pipe stacker and socket forming machine.
With Printer the Pipe Manufacturer can write the production information on the Pipes.
Stacker can be used to collect the pipes after cutting.
Socket forming machine can form one end of the pipe into a bigger diameter, so that the two pipes can connect end to end.
CARACTÉRISTIQUES
Production Capacity has a close relationship with screw size and motor power. The following table provide you a roughly classification of our pipe production solution.
For customized solution and details please feel free to contact us.
| | | |
| --- | --- | --- |
| Extruder Model | SJSZ-51/105 | SJSZ-51/105 |
| Quantity of mold blocks | 70 | 50 |
| Total Power | 42KW | 40KW |
| Pipe size | φ16~50 | φ16~50 |
| Max. speed | 20m/min | 17m/min |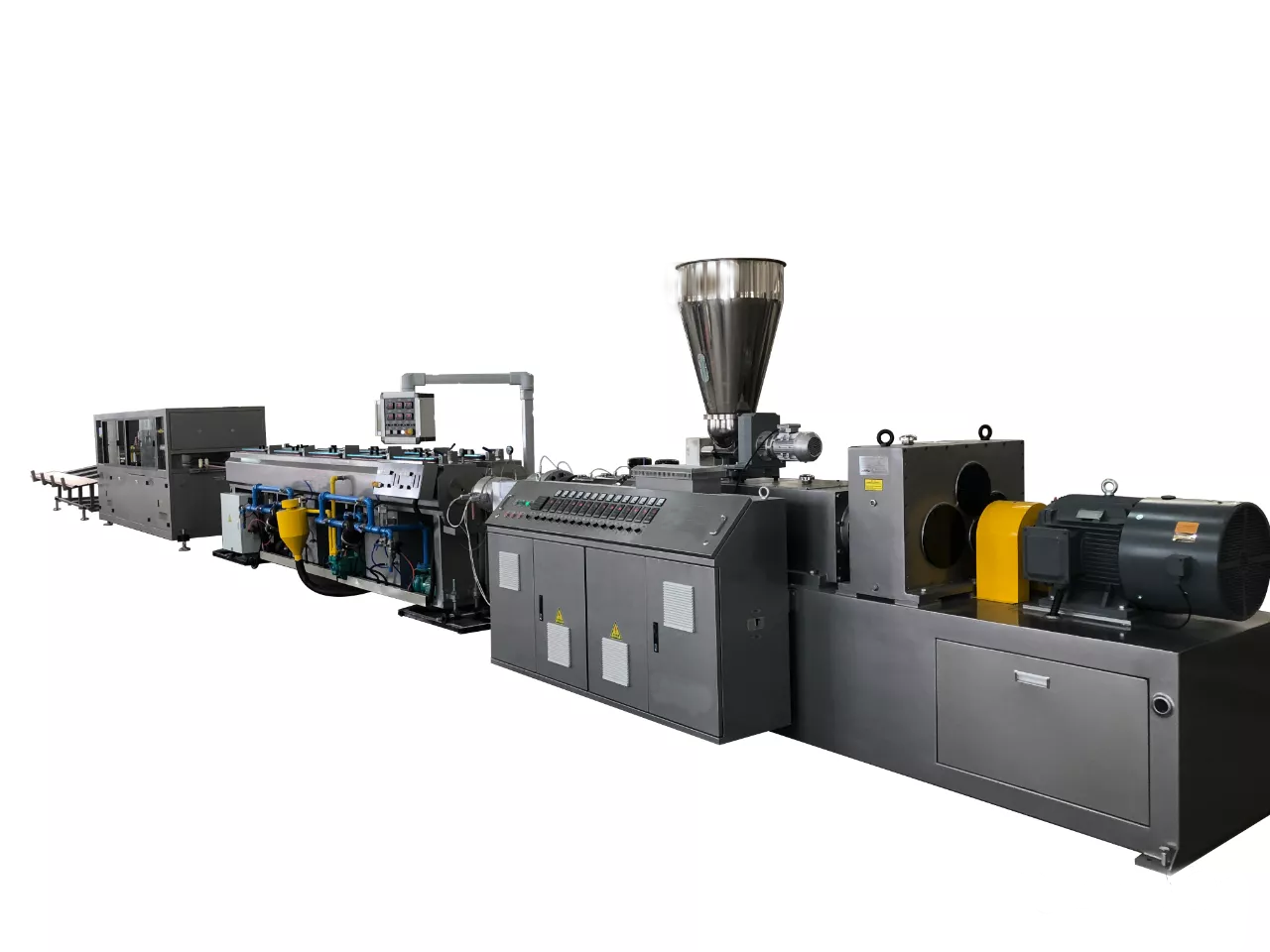 Zhangjiagang Langbo Machinery Co. Ltd.
Zhangjiagang Langbo Machinery CO., Ltd. est une entreprise en croissance continue et avant-gardiste en se concentrant sur la gamme des processus d'extrusion et de recyclage plastiques. Dure à notre application constante sur la technologie d'extrusion et de recyclage du plastique, nous avons des compétences matures à offrir des lignes de production pour le tuyau PVC / PE / PP-R, Tuyau multicouche PE / PP-R composite, profil PVC, profil composite PVC / PP / PE, composé en PVC et recyclage pour PET / PP / PE ou autres plastiques gaspillés.
Dans le but de fournir un service personnalisé, efficace et professionnel personnel pour répondre à nos exigences de la langue et des nouveaux clients. Nous fournissons non seulement notre équipement standard ou personnalisé de haute qualité, mais également nos services complets, y compris le fonctionnement des machines et les conseils de maintenance. Dans le marché concurrentiel à croissance rapide , nous avons aidé nos clients à atteindre leur objectif commercial et à élargir considérablement nos capacités de production et notre entreposage .
Nom de la compagnie: Zhangjiagang Langbo Machinery Co. Ltd.
représentant: Bofeng YIN
Produit / Service: Ligne d'extrusion de tuyaux , Ligne d'extrusion de profil , Équipement de recyclage en plastique , Ligne de co-extrusion , Équipement de granulation en plastique , Équipement de granulation
Capital: 500000RMB
Année d'Etablissement: 2012
Volume total annuel des ventes (en millions de US $): US$1 Million - US$2.5 Million
Pourcentage des exportations: 91% - 100%
Total volume d'achat annuel (en millions de US $): US$1 Million - US$2.5 Million
Nombre de Lignes de Production: Above 20
NombrNombre du Personnel de R&e du Personnel de R&D: 5 -10 People
Nombre du Personnel de QC: 5 -10 People
Service d'OEM fourni: yes
Superficie de l'Usine (mètre carré): 3,000-5,000 square meters
Adresse de l'Usine: Lefeng Road 99. Leyu town, Zhangjiagang City, China
Personne À Contacter: Mr. BofengYIN
Numéro De Téléphone: +86-0512-58578311